Davis Vantage Pro and Vantage Vue software
WeatherLink support
WxSwitchLink is fully compatible with the Weatherlink datalogger. We support Serial, USB and IP data loggers.
If for any reason the WxSwitchLink process stops during a few hours or days, once it reconnects again to the data logger it will retrieve old values so that you will not have blank periods in your data.
Starting with version 3.0, WxSwitchLink is now fully compatible with WeatherLink software and you can run WxSwitchLink and WeatherLink at the same time.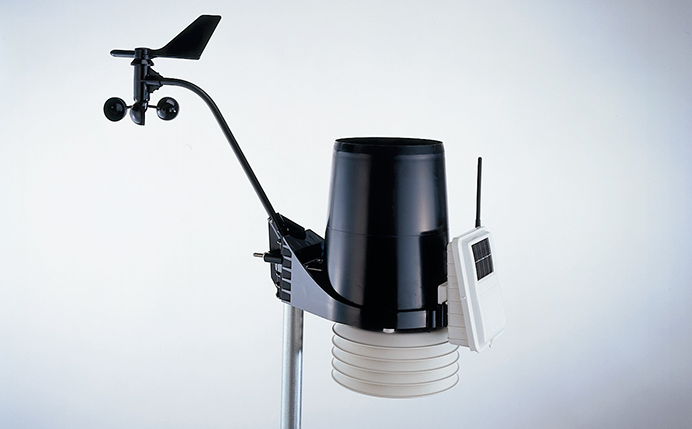 All Vantage Pro 2 stations consist of two main parts: the outside sensor assembly and the display console. The sensor assembly obviously sits outside in the weather, while the console is usually placed indoors where its LCD display screen can easily be read to see the very latest weather readings.
The main features of the VP2 range include:
Measures all of the following as standard: wind speed & direction; air temperature & humidity; pressure and rainfall
Many other readings such as windchill temperature, rainfall rate, sunrise and sunset times are calculated by the console
Sunshine and UV intensity sensors are options for all VP2 stations
The anemometer is separate from the main ISS sensor assembly, giving the key benefit that the anemometer can be mounted up high to measure maximum wind speeds, with other readings being measured more accurately closer to ground level
Fan-aspirated shields are available as an option to improve temperature accuracy
Large impressive LCD display on the console
Easy installation with screw & U-bolt fixings (excluding pole) and fully detailed installation manuals included
More details on Davis web site: Davis Vantage Pro 2.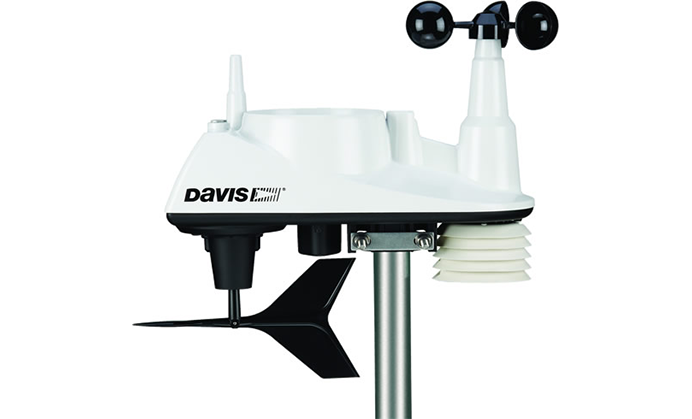 The Davis Vantage Vue weather station is aimed at providing all the well-known Davis qualities of reliability and accuracy in a lower cost, compact and easy-to-use wireless-only package.
Key features of the Vue include:
Wind speed & direction, with updates every 2.5 seconds allowing the display of true wind gust data
Air temperature
Humidity
Pressure
Rainfall
The Vantage Vue station consists of just two components: the display console shown here and a single all-in-one outside sensor assembly (referred to - by analogy with the VP2 systems - as the Vue ISS or Integrated Sensor Suite) - see picture below. Essentially all that's required to install a Vue station is to attach the ISS to a suitable pole or mast by means of a single U-bolt and within wireless range of the display console, and to power up the system.
More details on Davis web site: Davis Vantage vue.