WxSwitch uses the latest Wildfly 10 Java EE application server and uses the latest technologies like websockets to provide real time data to the clients.
The heart of WxSwitch contains a powerful Time Series Engine that processes incoming data flow on the fly and guarantees a high accuracy of the data stored in the database.
The time series engine also provides a real time calculator, that calculates derived data such as average, high, low over different periods of times.
Unlike other software that just store data in a database, the Time Series engine keeps in memory the state of your data over the time.
How the system works
You need to install a small software on a computer called WxSwitchLink. This process is very small and is not CPU intensive. It broadcasts in real time the data received from the WXT or Davis Vantage Pro to our servers. As soon as WxSwitchLink is running our services are available:
It is available for Windows and Linux systems. The Windows version is installed as a Windows service and runs silently in the background.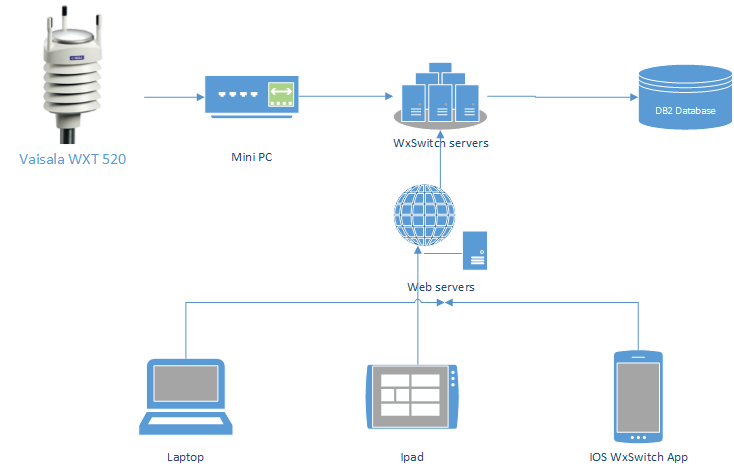 WxSwitch editions
We provide two levels of services:
Cloud: cloud edition allows you to use Weather Observer - our desktop application - anywhere on the Internet.
Internet: Internet provides a way to integrate you weather station data on your own web site. There are two presentations available that you can embed in your own web site, and not just by providing a link.
With both editions, your station is available on WxSwitch for iPhone/iPad.
For people that just want to get their weather station in real time we also provide o low cost iOS only subscription.
| | Cloud | Internet |
| --- | --- | --- |
| Your weather station available on the WxSwitch iPhone/iPad app | | |
| Access to you Weather Station using desktop Weather Observer application | | |
| Publish your Weather station online (WxReport & WxConsole) | | |